…and you knew how to rub it???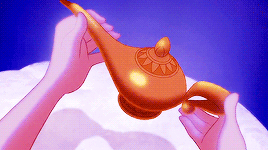 Since I can remember, I believed we had access to the Geni's lamp but I never really knew how to access the Lamp, let alone how I could rub it and call the genie.
Today I learned my MIND is the Geni's lamp and I was amazed, my mouth dropped, and my heart jumped, WOW!!!! and now I know how to rub this lamp and manifest my real heart's desire.
Since the start of last year, I was consistently asking for clarity and discovering this today has been the cherry on the cake to find how to manifest clarity. Everyone in the world needs to hear this. I have been reading many books since I entered the world of Network Marketing and they all had beautiful things to share and exercises which I practiced. Stitching the activities together felt challenging, but the MKE has done that for me and helped me to speed up my real purpose in life. I can't remember the last time I was so excited about anything like this!
Each week the activities of spending time discovering a virtue in others and then knowing that goodness is also in me have been mindblowing because I just cannot believe this is the same world I lived in before. People magnetise towards the person I have become with words like 'I need to see you' because I can ask probing questions which help people to look deeper inside themselves. They say I am 'Calmness,' 'Simplicity' and they feel like I am 'MORE'. What a great compliment and I am truly grateful for those words.
It feels like I now have a fire burning under my butt because I know I'm on the right track for my DMP. This week I will be moving on to scroll five of 'The Greatest Salesman' written by Og Mandino, and the sentence that stood out for me the most from the last scroll is:
"I practice and improve and polish the words I utter to sell my goods, for this is the foundation on which I build my career and never do I forget that many have attained great wealth and success with only one sales talk, delivered with excellence."
Just last week I was invited to speak in a televised interview about the Suffragettes and is to be televised on the anniversary of the 100 years of women getting their right to vote in the UK, in February. What an honor to have been interviewed and invited out of nowhere. I put this all down to the work I have committed to doing with the MKE.
Life is throwing all the opportunities I want to manifest my DMP and I am catching the balls. It's MAGIC!!!!