Oct 18, 2022 @ 9:13am

With every educational board in the world that offers GCSE Art or any further study of art, buying this excellent app for their students, Naila Din is set to become a billionaire in her lifetime.
The app is distinctive in that it caters to the learning styles of young people for fun and engaging, self-directed and immersive learning styles and yet meets examination requirements.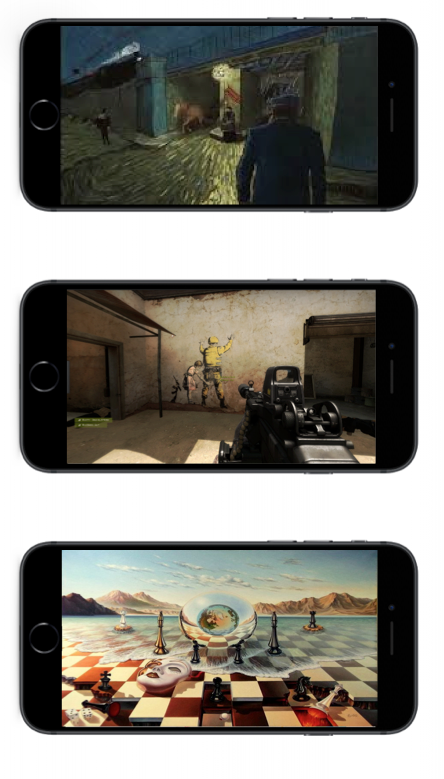 Naila tells me, "Often students with less academic abilities struggled with assessment criteria in art around understanding why the artists created what they did; what influenced them and why. Students can now see things from the artist's map of the world and understand what influenced them to create what they did."
The app has raised appreciation of Art in the education system. A subject often undervalued by the academic institutions. However, through gaming, students come to discover the deeper reasons behind the work of the artists. The app stretches further into the education curriculum to history and beyond allowing students to explore their thoughts and ideas about the world they live in and what is their passion?
Her work won her the Best New Technology Innovator of 2020 and surprised educationalists when the British Education Board bought the pilot concept and delegated Naila to lead a team of experts to further develop it alongside leading art specialists. The app is destined to raise the profile of art in the education system. Sir Ken Robinson himself championed her work and has further supported her with his expertise to see the value of art raised in the education system and creativity to thrive and prosper the minds of young people today and in the future.
Naila Din, an ex-art teacher from Cambridge UK, started life out as a graphic designer but becoming a single mom she looked to the education sector for her future career. When that caused health challenges as she promoted to the senior leadership she left and pursued a life of entrepreneurship. Today she is a highly successful entrepreneur and writer in her right, writing for the Huffington Post and the author of many books. Her children work with her on numerous business ventures like EDin homes, which invests in helping other single parents learn how to 'THINK' and lead inspiring lives for their children. The success of THE LINKS HUB PROGRAM raised her profile within the education sector as schools trained students to become ambassadors of change through the program which she co-founded with her daughter in early 2015.
Naila now lives in a luxury home in Beverley Hills which she built herself with her family. I learn she is a "Yorkshire Lass" as she tells me with a broad accent. The first daughter of immigrants in the UK she has come a significant way considering the barriers she faced as she grew up. Her book "I'm a girl! Why the HELL do I have a brain?" catapulted her stories to the public stage as well as started her venture with her YouTube Channel called 'Living the Lemon Life' which has exploded year on year with new paid subscribers. She has a stream of keen budding artists and story writers looking for an opportunity to share their skills and talents for the upcoming real-life stories on the channel. She describes how each of her successes has grown out of a little organic idea and as the seed of her idea grew it started to take shape as if by its own accord. She describes how she's always passionate about her work and it was still about the value she could give to others. She mentions Freedom as one of her most essential benefits in life. "The only right," she explains, "Is the right to life." A compelling statement and understandable when you come to learn about the cultural beliefs she had to break.
Extremely happily married at 49 to a successful lawyer from London and successful women in her right, she shares how at age 42 she was living in a culture steeped in superstitions and inhumane views around women, around divorce and even pregnancy out of wedlock. She came through it. With a string of successes which catapulting her global recognition. I ask her what her advice would be for others to break out of the chains she's lived over the past decades.
"Accept your past, don't try and ignore it, it is there because it has prepared you for the mission and purpose. It wasn't until I allowed my past to surface and become heard, that my life started to come together. I had to surrender to my history and break past the fear of what others might say or think about me. As soon as I did that with my story-telling and my book; my past left. It became consolidated, and I finally stepped into the woman I had been working so hard to discover for many years.
It was Network Marketing that showed me the road, and it was a terrible road; however, one thing I had was belief and trust in myself. No matter what! I find a way to win, and I always win."
Naila is currently one of the top earners in her Network Marketing Company, and she tells me, how this profession transformed her to become the leader she needed to grow to serve the world in the way that she dreamed.
"This profession forces you kicking and screaming into walking your talk or you leave!" Validation for a profession that often slated in the media.
The Din Dynasty is recognized globally for starting businesses that serve the welfare of people and even animals with a few cat café's she is exploring as another venture to help stray cats and dogs that we see popping up around the UK along with building projects that support the needs of people, like hospitals and schools.
Fun and wholesome family, loyal to each other and all unique in their right. A different dynasty led by a woman an increasing sign of the world today.